Wood Photo Frame With Geode Print Resin Lamination | Photo Frame
Old Price Rs. 1,940.00 Rs. 1,358.00 Gst Included
<ul> <li aria-level="1"><strong>Size:</strong> Holds picture size: 5" x 7"</li> <li aria-level="1"><strong>Framework Material:</strong> Consists of premium quality with geode print resin lamination.</li> <li aria-level="1"><strong>Installation:</strong> Easily install your paintings, posters and wall frames which can be mounted on the wall. Mount with desired photographs and text and can be designed in vertical &amp; horizontal according to choice of client.</li> <li aria-level="1"><strong>Suitable Gifting Options For</strong> - Gifts Birthday, Home Decor, Wall Decoration, Office Friends, Couple, Business Partner or Family Members Wall Frames, Birthday, Marriage, Loved Once, Any Occasions.&nbsp;</li> </ul> <p><strong>Keep Moment Life Long</strong>: &nbsp;photo frame keeps the moment alive by framing your photos and keeping the moment alive with personalized gifting.</p>
<div class="table-responsive"> <table class="table"> <tbody> <tr> <th scope="row">Product name</th> <td> <p>Wood Photo Frame With Geode Print Resin Lamination</p> </td> </tr> <tr> <th scope="row">Price (MRP)</th> <td> <p>1940</p> </td> </tr> <tr> <th scope="row">Manufacturer</th> <td> <p>Rivora</p> </td> </tr> <tr> <th scope="row">Variant SKU</th> <td> <p>RIWPFGP9029</p> </td> </tr> <tr> <th scope="row">Style</th> <td> <p>Modern</p> </td> </tr> <tr> <th scope="row">Product code</th> <td> <p>rivora_35</p> </td> </tr> <tr> <th scope="row">Weight</th> <td> <p>305 gm</p> </td> </tr> <tr> <th scope="row">Pkg-weight</th> <td> <p>400 gms</p> </td> </tr> <tr> <th scope="row">Color</th> <td> <p>Pink</p> </td> </tr> <tr> <th scope="row">Primary Material</th> <td> <p>Wood, resin</p> </td> </tr> <tr> <th scope="row">Item Dimensions (l x w x h)</th> <td> <p>Below</p> </td> </tr> <tr> <th scope="row">Width (cm)</th> <td> <p>19.1</p> </td> </tr> <tr> <th scope="row">Height (cm)</th> <td> <p>24.1</p> </td> </tr> <tr> <th scope="row">Depth (cm)</th> <td> <p>1.3</p> </td> </tr> <tr> <th scope="row">Length-pkg (cm)</th> <td> <p>23.5</p> </td> </tr> <tr> <th scope="row">Width-pkg (cm)</th> <td> <p>31.1</p> </td> </tr> <tr> <th scope="row">Beadth-pkg (cm)</th> <td> <p>5.1</p> </td> </tr> <tr> <th scope="row">Hsn-code</th> <td> <p>4419</p> </td> </tr> <tr> <th scope="row">Gst</th> <td> <p>18%</p> </td> </tr> <tr> <th scope="row">Country of Origin</th> <td> <p>&lrm;India</p> </td> </tr> <tr> <th scope="row">Net Quantity</th> <td> <p>&lrm;1.00 Unit</p> </td> </tr> </tbody> </table> </div>
Premium quality wood photo frame with geode print resin lamination made by skilled craftsmen for ethnic antique look. Fitted with a beautiful luxurious wood photo frame with black non-woven back cover and metal stand. Beautiful luxurious & elegant, lovely décor collectible enhances style and luxury of living. Store timeless memories captured of your loved ones. This is a classy gift for all occasions like wedding, birthday, anniversary, and housewarming. This is a handmade product of natural wood, due to natural origin there might be shade variation and colour variation shown in the picture. This is a handmade wood product exclusively crafted from premium quality wood.
Photo Frames make great gifts as they help preserve all the memories that a person has. Whether it's a photograph, an image, painting, a document, or anything that can fit inside it, you can expect the frame to help preserve that memory. The frame divides the work of art from its surroundings and helps focus the viewer's attention. 
At the same time, it unites a work with its backgrounds by forming a transition or a link to other works or to the wider setting. Since, your loved ones are near and dear to your heart. Proudly show off your love for them with photo frames. Add a lot of beauty to the house with this wonderful masterpiece. Display your memories with happiness with these exclusive personalized photo frames.
We started RIVORA with one goal in mind providing the best quality products to our consumers. For this reason, we follow the Process Explained below
1) Sourcing High-Quality Raw Material
We source the highest quality raw material for our entire range. This helps us ensure that all our products are of the highest quality.
2) Employing Skilled Craftsmen
At RIVORA we employ one of the best craftsmen in the industry and don't rely on machines for our craft. this Process helps us ensure the highest quality of products.
3) Following Stringent Quality Control
Before shipping to our consumers, all of the products go through stringent Quality control so that our consumers are happy with their purchase.
By following the above process our prices are a bit high BUT Make are consumers and their loved ones HAPPY 😊 at the end.
Product Features
<ul> <li aria-level="1">Personalized picture frames make a great gift idea for multi-occasion. </li> <li aria-level="1">Perfect photo frames gifts for birthdays, family photos or gifts for newly married couples.&nbsp;</li> <li aria-level="1">Small but great gesture to show you care and love.&nbsp;</li> <li aria-level="1">This will bring a smile to the faces of your loved ones by gifting this attractive.</li> <li aria-level="1">Stylishly&nbsp;frames&nbsp;oriented to grant attention to your wall. </li> <li aria-level="1">Hanging provision,&nbsp;can be used both vertically and horizontally.&nbsp;</li> <li aria-level="1">Photoframes is&nbsp;made by experts&nbsp;for&nbsp;cherished moments of your life. </li> <li aria-level="1">Most popular gift items are fit for all occasions such as birthdays, corporate events. </li> <li aria-level="1">To buy premium quality and genuine products look for&nbsp;Rivora.</li> </ul>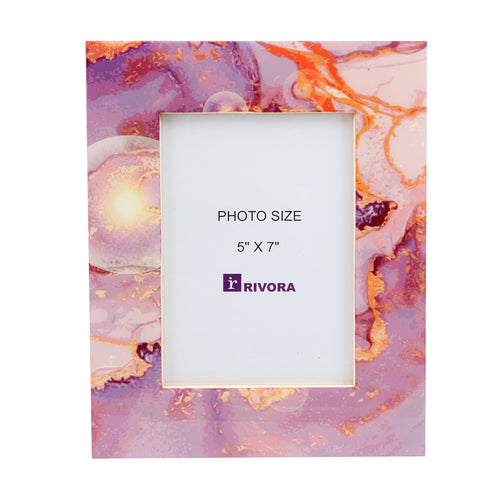 Popular Tags
Wall hanging Photo Frame | Table top Photo Frame Blue Frame Photo Frame | Blue Photo Frame for Wall | Blue Picture Frames Online | Blue Picture Frames Online India | Single Photo Frames Online | Best Photo Frame for Birthday Gift | Best Photo Frame for Wedding Gift | Best Photo Frame for Anniversary Gift | Best Photo Frame for Housewarming Gift | Best Photo Frame for Valentine Gift | Best Photo Frame for Corporate Gift | Photo Frame Ideas for Wedding Gift
What people are saying about
Wood Photo Frame With Geode Print Resin Lamination | Photo Frame ?
Old Price Rs. 1,940.00 Rs. 1,358.00